Berlin

Sports Seat: Berlin
Directly from the European stadiums, Kango Brazil brings to the South American market BERLIN. The chair BERLIN, patent requested in Europe and Brazil, its measures ensures comfort of the viewer, as well as being compact and confortable.

Highlight for their resistance to damage caused by weather action, ultraviolet rays and vandalism.
The seat is endowed with excellent ergonomics, reinforced by design with rounded edges around the backrest. The seat has a Closing system by gravity, which increases the space between the rows. Is This a chair that can be used in internal and external environments, an excellent option for Brazilian stadiums that will host the World Cup in 2014.

Seat mould of polypropylene injected, resistant to vandalism and weathering.
Various colour options.
Closing system by gravity;
Developed design for large sports arenas;
5-year guarantee for manufacturing defects.
Technical Characteristics
Sizes:
Seat Width :: 420 mm
Backrest Width :: 440mm
Seat Depth :: 420 mm
Seat Depth Open :: 480mm
Seat Depth Closed :: 260mm
Backrest Height :: 250 mm
Minimum Axle Spacing :: 470 mm
---
Characteristics:
Tubular metal structure;
Structure fire galvanized against corrosion;
Closing system by gravity;
Resistant to ultraviolet rays.
Seat and backrest in highly resistant injected polypropylene;
Numbering in the backrest;
Fire retardant;
Product patented in Brazil and world;
5 or 10 year warranty.
Fixation
The BERLIN seat is applied on the height of the step, us large sports stadiums and arenas and gymnasiums, and can also be fixed on the floor. Its Closing system by gravity ensures a large space between the rows, which ensures comfort and safety to the spectators.
Models fastening:
---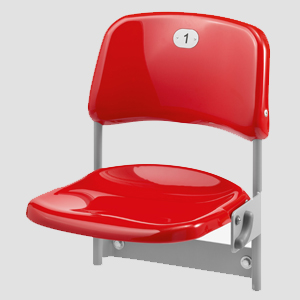 Fixing on the height of the step